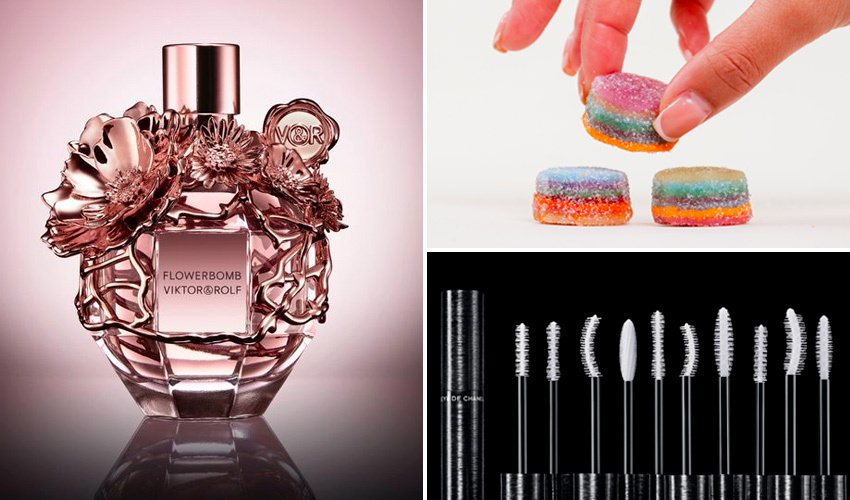 Additive manufacturing and 3D technologies are being applied to virtually every industry in different ways and for different purposes. In recent years, the beauty and cosmetics sector has also been counted among these. The reasons that cosmetic companies are beginning to use 3D printing are many. Prominent among them is the increased customizability of products,  even according to a customer's skin type or physical characteristics through 3D scanning techniques, for example. But that's not all, large brands in the beauty world have also resorted to additive manufacturing to produce "cruelty free" products and more sustainable, lightweight and optimized packaging. To explore the topic further, we have collected some the most interesting 3D printed cosmetics projects and applications in the beauty industry to shed some light on recent trends.
Beauty Products and 3D Printing
3D Printing at LUSH
The LUSH brand specializes in the manufacture of beauty products such as body creams, soaps and more. With numerous boutiques around the world, it has made a name for itself in the plant-based cosmetics market. A few years ago, LUSH invested in 3D printing, specifically to improve its R&D processes, but also to design molds, tooling and finished products. For example, 3D printing enabled the company to design molds in the shape of koalas to make soap as part of a campaign to support the wildlife victims of the Australian bushfires in 2020. Notably, among the 3D printers owned by LUSH are Formlabs machines.
3D Printed Nails by Mani.me
Painting one's nails can be a time-consuming process, prone to mistakes and messes. Fake nails may not be the right size or feel uncomfortable. That is where company Mani.me steps in to provide a solution in the form of tailor-fitted, custom 3D printable nails. With their revolutionary procedure, Mani.me can create a set of unique nails for each customer based on measurements and data taken from the images their customers send them. Starting with pictures of their hands, the company can generate a 3D model to determine the exact size and shape necessary for each person's nails. After which, the clients' choice of design is 3D printed onto a set of nails and delivered. For a fashionable freedom of choice that removes the limitations of standard nail painting, your next nails may be coming to you from a 3D printer!
3D Printed Mascara
One of the most successful cosmetic products in its 3D printed version is mascara. In 2017, it was Chanel that launched the first mascara with a brush 3D printed with SLS technology. Chanel's Le Volume Révolution mascara has a shaped brush that is irreplicable with other technologies and was the result of the study of over a hundred prototypes. It was the very first mass production of this type of 3D product that has opened up new possibilities for the world of cosmetics. Behind the production was the company Erpro Factory 3D, which also managed a similar project for the Albéa brand. Called "Make 3D yours", this service makes it possible to create customized brushes (up to ten different shapes in a week!) offering the customer a truly unique product enabled by 3D printed cosmetics.
Mink Beauty – Mink Printer
In 2014, Harvard graduate Grace Choi decided to found the company Mink Beauty. The company's flagship product is called mink printer, a small 3D printer that is able to print makeup. It works in a very simple way: you just have to choose a photo from the internet and hit print. The printer is responsible for printing the photo with eye shadows, so that as it is printed, you can pass your brush through the photo, and make up with the colors you have chosen. This small printer is designed so that you can take it with you wherever you need because it is portable, weighs little and prints very fast, as fast as more than a million colors per second. To be able to print you only need wifi and the Mink mobile application, isn't it amazing?
Combining Skincare and 3D Printing
Neutrogena Uses 3D printing in Several Forms
One of the biggest actors in the beauty sector is the American company Neutrogena, dedicated to the development of cosmetic and personal care products. And like many other organizations, it is also making use of technologies in its day-to-day business. We first heard about Neutrogena and additive manufacturing with the launch of its Neutrogena Skin 360. This is a system that analyzes the user's skin to identify their needs and create "MaskIDs", 3D printed facial masks that adapt to each user. Later, the company collaborated with Nourished to create Skin360 SKINSTACKS, 3D printed nutritional supplements for skin care. Each SKINSTACK is vegan, sugar-free and has seven layers that can be customized to each individual's needs. We certainly hope that Neutrogena will continue to explore the possibilities of additive manufacturing in this field in the future.
BASF's Customized Masks and Eye Patches
One larger trend we have seen in the beauty industry is increasingly less focus on makeup to cover imperfections. Rather, users are turning to products that directly target their skin to address issues like acne, wrinkles, dark circles, redness and more. But since every human is different, so too should be the products that are used for their specific needs. That is why BASF partnered with Natural Machines in 2021 in order to develop a technology in order to created 3D printed customized face masks and eye patches. The project would combine a unique 3D printer from Natural Machines and specialty ingredients from BASF, allowing users to receive masks that are adaptable to individual face sizes and are able to incorporate different benefits in different zones within the mask. A unique application of 3D printing in beauty. The technology was expected to be introduced to the market in 2022, though as of now there has been no news.
Dior and 3D Skincare Technology
Among other big-name companies making use of 3D printing is Dior. The French luxury company has gotten a head start in artificial intelligence skin analysis technology in Paris. With its expertise in dermatology and neuroscience, it was able to more accurately identify minor skin imperfections and their causes. As a result, customers receive product recommendations tailored to their needs. In line with Christian Dior's vision of making women happier and more beautiful, the fashion house has developed the Dior AI Skin Analyzer. This process uses 3D scanners to analyze six dimensions of the skin and then offer AI-based solutions for the two main problems detected. This technology represents a significant breakthrough in skin care worldwide.
Using 3D Bioprinting to Improve Skincare Products
Another form in which 3D printing is being used in cosmetics that is worth mentioning is the 3D bioprinting of human skin in order to test products and customize them. One such project was launched once again by pioneer Chanel, which in collaboration with French biotech company Labskin Creations, reproduced human skin through cell culture and 3D bioprinting techniques to better study skin imperfections and create more effective skincare products. Labskin Creations has collaborated on a similar innovative project with the company known as JALA Group, one of the leading cosmetic companies in China. In the case of JALA Group, bioprinting technology was used to build the first Asian skin model and test products more suitable for Asian women. It should be mentioned that this type of technology, in addition to creating more effective and targeted products, also removes the need for the controversial use of animal testing.
Exploring the Uses of 3D Printed Packaging
L'Oréal and its 3D Printed Packaging for Cosmetics
When we speak about cosmetics, it is impossible not to mention one of the world's leaders, L'Oréal. The French company has made its mark on the industry in everything from perfumes to mascara and what you may not know is that it was also an early adopter of additive manufacturing. L'Oréal has been using 3D printing since 1993 for prototyping, tools and molds for packaging. Then in 2019, it made the jump with its very first 3D printed packaging for the La Maison Jasmins Marzipane Lancôme collection, a limited series of 50 ultra-luxury perfumes. Since then, it has only continued, partnering with HP in 2021 to expand its packaging production with adjustable 'pucks' made through HP's dedicated Digital Manufacturing Network. You can learn more about the project in the video below:
MAMEHA and Sustainable Packaging
Today, environmental awareness and sustainability are some of the most important values across all industries, and many trailblazers are set of forging a path to a better future for our planet and those of us living on it. Japanese startup MAMEHA has taken sustainability into the beauty industry with their goal of zero-waste, 100% recyclable containers. Their minimalist packaging is 3D printed with 4 building materials to make a polymer container and glass pipette. The result? MAMEHA containers use 80% less glass than a standard container, while the UV protected bottles keep their contents safer for longer and can be easily disassembled by hand. So, the next time you are out looking for bottles to hold your serums, toners, or other skincare products, consider the stylish yet ethical approach of MAMEHA and discover the beauty in the eyes of the (product) holder.
Viktor & Rolf: Flowerbomb
Viktor & Rolf, the famous fashion and perfumery house, was founded in 1993 and has always stood out for its glamorous and luxurious collections. Flowerbomb has been the bestseller of the brand for years, it has practically become a household name. Hence fifteen years later, they decided to make a tribute to this fragrance: an exclusive edition of their product as a tribute to its long success and popularity. However, the blueprints of their packaging were impossible to manufacture by traditional methods, so they had to look for new technologies. The vessel's creation was carried out in collaboration with L'Oréal, using 3D printing machines from the company Carbon, who built just fifteen exclusive units. For each of those fifteen units, the pieces were printed in resin, polished and put together by hand, and finally given a rose gold plating, at a final price tag of $2,500 per unit. Many consider this edition the perfect combination of new technologies and traditional methods. It is worth mentioning that this is not the first time that perfumes of this caliber have been created. Back in 2020, Formula 1 also created three limited edition bottles with 3D printing methods. The most surprising thing besides the design was its cost – no less than $10,000 a bottle!
Cosmogen's Additive Manufacturing Connection
French company Cosmogen develops packaging for the cosmetics sector, and recently turned to 3D metal printing to imagine cream applicators with more varied and complex geometries. Thanks to 3D technology, the company can imagine various shapes to better apply care products around the eyes or lips. The use of additive manufacturing also enables the company to adjust their production volumes according to need. It is not openly known which printing process is used by the company at the moment, only that Cosmogen is working with a partner.
Which of these was the most interesting 3D printed cosmetics product for you to learn about? Let us know in a comment below or on our LinkedIn, Facebook, and Twitter pages! Don't forget to sign up for our free weekly Newsletter here, the latest 3D printing news straight to your inbox! You can also find all our videos on our YouTube channel.

link